Check Out the 2018 Chevrolet Cruze – Where Style Meets Performance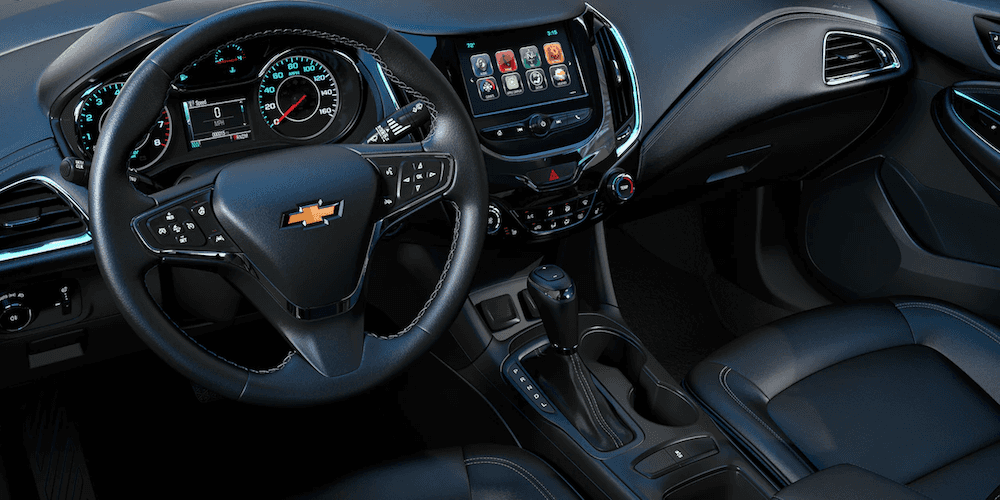 If you're in the market for a new, smaller vehicle, then you've come to the right place. Chevrolet is a decades-old, trusted brand that continually delivers when it comes to reliable and dependable vehicles.If you're looking for a new sedan for your teen driver or looking for a fuel-efficient car that'll be great for that daily commute, then you can't go wrong with the 2018 Chevrolet Cruze.
Below we'll give the reasons why this is the best new sedan to hit the vehicle market in 2018. From style and performance to high tech safety and connectivity, this is a vehicle that is hard to beat. Come take the 2018 Chevrolet Cruze out for a spin at DePaula Chevrolet today – you won't want to leave the lot without it.
Exterior
When it comes to style, the 2018 Chevrolet Cruze has it all. With a standard sedan option and hatchback option, this vehicle has a sporty style and exterior that gives it a modern edge. This vehicle has sophisticated winged headlights, a sculpted and sleek aerodynamic finish, and that iconic Chevrolet grille that is instantly recognizable. With 42.7 cubic feet of cargo room and five-person seating, this is an excellent car that has plenty of passenger space as well as plenty of cargo room for any gear you might have.
Performance
The 2018 Chevrolet Cruze makes a name for itself with its performance capabilities. These specs are sure to shock and awe any potential buyers, with a 1.6L Turbo Diesel engine that gets a spectacular 52 mpg on the highway. Say goodbye to those painful stops at the gas station, this is a vehicle that can get up 702 miles on a single tank of gas! In addition, it also has 240 lb-ft of torque, making this a vehicle that's gonna be quick off the starting line.
Safety
Safety is essential for any car buyer, and the 2018 Chevrolet Cruze doesn't skimp on it. With the latest safety technology, this is a vehicle that you can be confident you and your family will be safe in. The Chevrolet Cruze has an impressive array of available safety capabilities including a rear vision camera, forward collision alert, rear park assist, lane keep assist with lane departure warning, side blind zone alert, and rear cross traffic alert among others. This vehicle received a 5 overall score from the National Highway Traffic Safety Administration, meaning you're in the best of the best vehicle when it comes to preventative protection and response.
This vehicle also has an excellent teen driver option. Teen Driver Technology includes a number of hands-on teaching tools to help your teen become a more proficient driver. Some of these tools include muting the audio until every passenger is buckled in, automatically turning on safety technologies, and an in-vehicle report card to help determine potential problem areas. With an easy to set up menu, this is an excellent option for parents looking for a vehicle to be compatible with their new teen driver.
In addition, the 2018 Chevrolet Cruze is equipped with an OnStar Safety and Security Plan that is standard for the first month you own the vehicle. If you are ever in an accident or need an assistant, you can rest assured knowing a response team will come right away to help you or your family.
Interior
The interior of this vehicle is high tech and futuristic, with an available all-black interior, black leather seats, and chrome accents. With a command center that's sophisticated and high tech, this is a vehicle you'll be excited to show off to your friends and family. The 2018 Chevrolet Cruze also has availible heated seats, leather-wrapped steering wheel and shift knob, as well as plenty of legroom to make every ride comfortable.
Connectivity
In this day and age, staying connected is important, and the 2018 Chevrolet Cruze has the technology to do so. This vehicle includes a number of high tech features including a 7-inch color touchscreen that includes Apple CarPlay, Android Auto, navigation, Bluetooth, and many other apps and services. With smartphone integration, this is a top quality step up when it comes to tech standards.
Additionally, the 2018 Chevrolet Cruze also includes a built-in WiFi hotspot, meaning you'll never be without service on those long, empty roads. In addition, Chevrolet offers a MyChevrolet Mobile app.  By downloading this App directly on your phone you can remotely access your vehicle to stop or start it, unlock or lock the vehicle, locate your vehicle, check on the vehicle status such as gas levels or oil levels, as well as send it destinations and navigations remotely all from your smartphone. When it comes to the next generation of vehicles, the 2018 Chevrolet Cruze is hitting all the marks.
Price
At the starting price of $16,975, this is an affordable and excellent vehicle option for all car buyers. With a number of high tech features, great gas mileage, and sophisticated exterior style, this is a car that pays for itself. Whether it's a new car for your teen or a new car for you, the affordability on the 2018 Chevrolet Cruze can't be beaten.
Visit DePaula Chevrolet Today!
At DePaula Chevrolet, we have the latest Chevrolet models and knowledgeability to make any car buying experience a great one. With years of experience in the automotive industry, we're a Chevrolet dealer that you can trust to keep the customer first in mind. From our expansive inventory to our highly knowledgeable and friendly staff, you'll arrive and leave our lot with a great experience. Have questions about the new 2018 Chevrolet Cruze? We have the answer to all your most pressing questions. Interested in checking out another Chevrolet vehicle? No matter what Chevrolet vehicle you have in mind, we are eager to assist you in finding the right vehicle for you. Give us a call or visit our lot today for a test drive, we'll be happy to take you out for a spin!