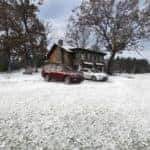 Snow Tires vs. All-Season Tires
New York's Capital Region is no stranger to icy roads and heavy snowfalls during the winter season.
It's who we are as citizens of Upstate New York, and we're rarely surprised when we get heavy snowfalls, or when we see snowflakes as early as October and as late as April.
So, this year, as the snow begins to accumulate, it's important to ensure your vehicle is equipped with the best winter tires to make it through the season without any accidents.