Best Winter Tires: Snow Tires vs. All-Season Tires
Snow Tires vs. All-Season Tires
New York's Capital Region is no stranger to icy roads and heavy snowfalls during the winter season.
It's who we are as citizens of Upstate New York, and we're rarely surprised when we get heavy snowfalls, or when we see snowflakes as early as October and as late as April.
So, this year, as the snow begins to accumulate, it's important to ensure your vehicle is equipped with the best winter tires to make it through the season without any accidents.
Snow Tires
While they're referred to as both snow tires and winter tires, you can expect to have peak performance in conditions from sleet, slush, snow, ice, even roads that are cold and dry.
A primary difference between the snow tires and all-season tires is the enhanced breaking performance provided by winter tires during snowy and icy weather conditions. The rubber tread is specifically formulated to stay flexible during extreme conditions — like freezing temperatures.
Not sure if you currently have winter tires on your Chevy?
Look for the Severe Snow Symbol (a snowflake inside a mountain) on the tire's sidewall. This symbol specifies that the tire adheres to a snow traction standard administered by the Rubber Manufacturer Association (RMA).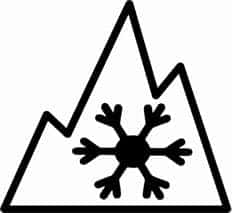 If your commute consists of icy roads, or roads that aren't plowed as frequently, snow tires could be the best option for your vehicle.
Why You Shouldn't Use Snow Tires in the Summer
Snow tires, all-season tires — even summer tires — serve different purposes and produce different results.
Winter tires are meant for just that — the elements we face during the winter season. The tread on snow tires will wear out substantially faster if they are frequently driven on bare pavement and will lead to needing replacements sooner than anticipated.
Snow tires' tread design can also lead to diminished performance for the vehicle outside of the winter season. Using winter tires during the warmer months can also hinder the vehicle's performance and use more gas.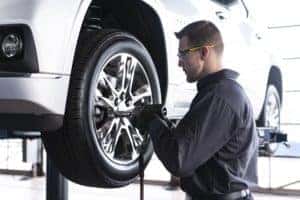 All-Season Tires
The tread design on all-season tires will offer a quieter ride, rolling resistance, and asymmetric tread for superior performance with a dry grip and wet traction.
The tread life will last longer than if you were to only use tires that are designed for a specific season throughout the year, too.
All-season tires are specifically designed to offer traction for a variety of weather conditions and to last throughout the year. Because of this design, winter tires can surpass them when it comes to traction support during periods of severe snow and ice.
That's not to say that your all-season tires won't handle the elements we face during the winter season, your vehicle's powertrain also plays a factor when it comes to handling and traction control.
If your commute consists of roads that are well-kept during the winter months, all-season tires could be the best option for your car, truck or SUV.
Equip Your Chevrolet with the Best Tires
It can be overwhelming to determine which tire is the best option, but DePaula Chevrolet will have an option that will keep your vehicle on the road, and your family safe, throughout the season.
If you aren't sure if your vehicle needs new tires, if all-season are the best option for you, or if you need snow tires mounted, our service technicians will be able to handle it all for you and set your mind at ease.