A look at the 2021 Chevy Trailblazer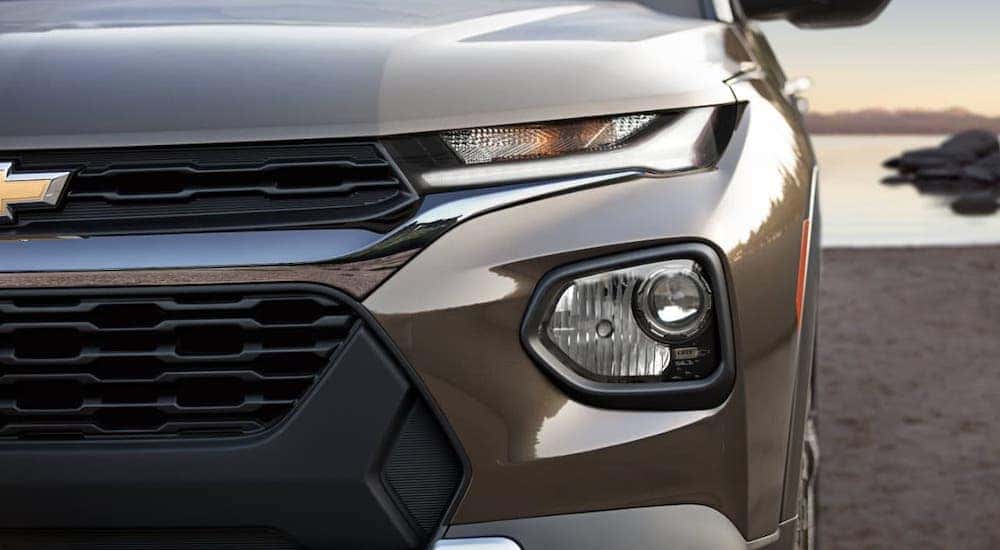 The last time the public saw the Chevy Trailblazer, the year was 2009. Though a mere 12 years have passed, the advancements in automobile safety and convenience technology make it seem like a lifetime. The second generation of Trailblazer will be released in 2021, to much fanfare from Chevy. As a smaller SUV, the Trailblazer fits within a very popular segment of the automotive market. It appears that many of the updates to the new Trailblazer will follow along the same path as its larger sibling, the full-sized Blazer; however, each trim within the model's lineup will be equipped with a full suite of customizable options. Best of all, Chevy's early reports indicate that the starting MSRP of the 2021 Chevy Trailblazer will be around only $20,000. We are going to take a diver deep into what to expect from the 2021 Trailblazer so that when it hits our lot at DePaula Chevy in Albany, NY, you will be ready to swing on by and take it for a spin yourself.
A Full Suite of Safety
One area in which the Trailblazer appears to be amply prepared in is its safety features and technology. Not only are there many standard safety features, but available optional offerings to increase protection of the driver, vehicle, passengers, and others who share the road.
Standard offerings are seemingly going to include automatic emergency braking, a system that alerts drivers when a front-end collision could happen and automatically applies the brakes. This technology is likely going to be paired with forward collision alert, which provides notification when the front of your Trailblazer is too close to another vehicle. There will also be a following-distance indicator provides the exact specifications between you and the car in front of you, to help you judge if this distance is safe. Lane-keep assist with lane departure warnings is likely going to be standard as well and can help drivers keep focus in their lane. This technology works by detecting the lane markers and providing an alert when crossed. It can also provide gentle steering assistance that will keep drivers from drifting unintentionally. Lastly, it is almost guaranteed there will be a standard rear-vision camera and front pedestrian braking, which are helpful in situations where you may not notice a person or object passing in front or behind your Trailblazer, providing guides and alerts to avoid collisions.
The Chevy Trailblazer is also rumored to be equipped with Chevy's Teen Driver Technology, which allows parents to set certain limits to an inexperienced driver's time in the vehicle. This includes muting the audio until all seat belts in use are buckled, turning on certain safety features, and providing a "report card" that lets parents know areas that might need improvement.
Chevy will offer a variety of optional features, as well. These optional features include adaptive cruise control, which will help mitigate forward collisions by automatically reducing speed to match the vehicle ahead of you. Lane change alert is also likely to be an optional feature and will provide visual signals when another driver occupies the blind zone. Plus, the aforementioned rear-vision camera can opt into a high-definition version. No matter which options you choose, these new Chevy vehicles are going to be very safe.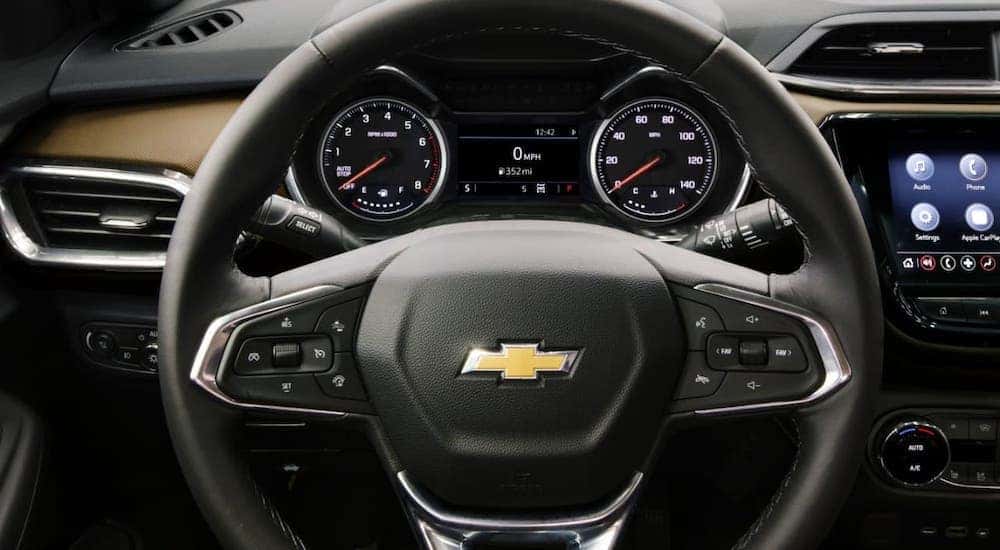 Truly Exciting Trims
As of Spring 2020, five trim packages have been announced for the 2021 Chevy Trailblazer: L, LS, LT, ACTIV, and RS. While Chevy has not released all of the details surrounding each trim level, it appears they will follow closely in the pattern of the Blazer, Trax, or Equinox.
The L trim has been announced with standard LED daytime running lamps, as well as Chevy's distinct infotainment system, which allows drivers to pair their devices with Apple CarPlay or Android Auto, and stream audio and manage calls through Bluetooth. The second-row seats will be a 40/60 split, which allows it to accommodate up to 54.4 cubic feet of cargo. The LS will add a passenger seat that can fold flat for even more cargo, allowing up to eight and a half feet in length for oddly-shaped objects. It also includes 17-inch aluminum wheels. The LT trim level will be equipped with roof rails for extra cargo, heated seats, and the convenience of a remote start. The RS will offer a signature two-tone roof, 18-inch wheels, and leather-trimmed seats.
The ACTIV trim has been best publicized to date. As Chevy's off-road take on the Trailblazer, it will include a lifted suspension to allow greater ground clearance, all-season Sport Terrain tires, and shock and damper tuning that can take on a wider variety of road types. While it is not an entirely off-road intended vehicle, it is undoubtedly capable of taking on many terrains, with its own specially designed lower portion to protect the inner workings from water, rocks, and dirt, while allowing more clearance.
Optional features across trims will seemingly include SiriusXM satellite radio with 360L9 exclusive content, which learns what drivers like and helps recommend new interactive choices. A hands free liftgate can be very helpful for drivers who will have their hands full- either with cargo or little ones. Wireless charging pads are available to help keep devices at the ready at all times. At the same time, OnStar can provide an additional level of safety and security by being there when drivers need it most. It also appears that Chevy has developed a technology that allows two users to pair their devices with the Bluetooth streaming service at the same time, which can broaden the streaming media or phone use possibilities throughout the vehicle.
Equipped with Plenty of Power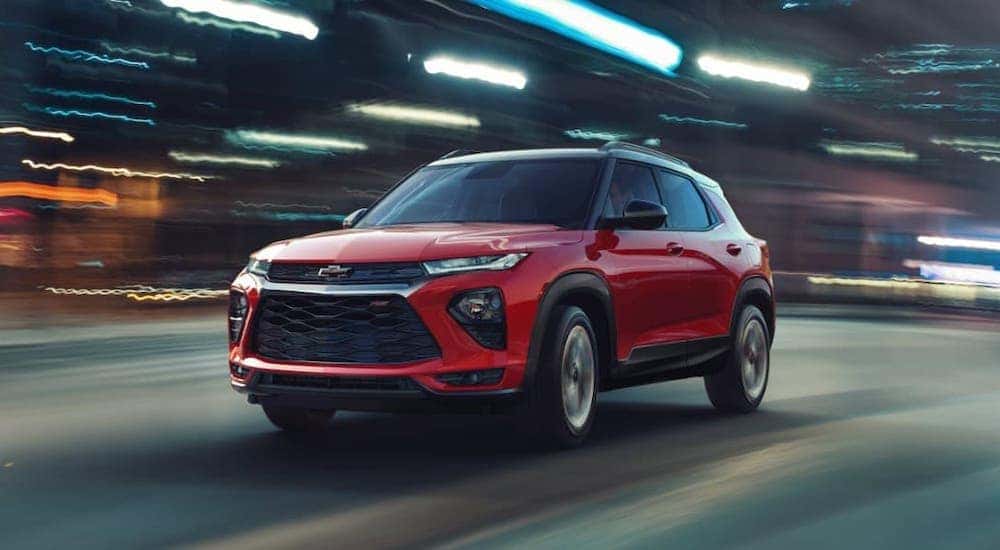 Two engine options have been announced for the 2021 Chevy Trailblazer. The first is a 1.2L turbo engine, with further specifications to be released closer to the Trailblazer's unveiling. The second is a 1.3L turbo engine, which has been announced as producing 155 hp. This engine will be paired with a nine-speed automatic transmission and will be offered as an all-wheel drive vehicle.
In fact, early reports indicate that the 2021 Chevy Trailblazer will be equipped with Chevy's selectable all-wheel drive technology. This may be an available option, rather than standard, but it's easy to see why drivers may choose to equip their vehicles with this technology. Selectable AWD gives drivers a choice between activating AWD when the weather or road conditions call for it and deactivating it to save on fuel economy, when the conditions offer normal, dry, flat roads. The basic drive modes will include Normal, which is perfect for a comfortable daily drive, Snow, which adjusts the throttle input to allow the vehicle to accelerate appropriately on slick, frozen roads, and Sport, which gives faster steering response and shifting. The AWD models may have additional drive modes to adjust the torque to the wheels that need it most, allowing for a smooth, stable driving experience on nearly any road.
The Chevy Trailblazer will make its return to the American market in 2021, with a fully redesigned model that allows drivers to customize their experience. With an ever-growing range of driver needs in the new decade, it's easy to see why drivers would choose a small SUV that can transport family, cargo, and still be comfortable and economical enough for a daily driver.