5 Ways that Chevy Does SUV's Better Than Anyone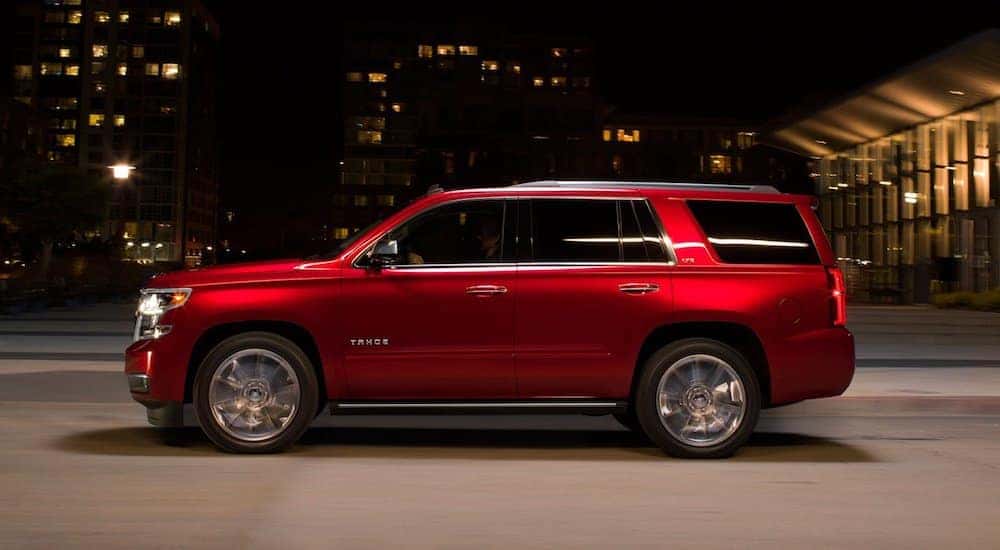 Over the course of the last three decades, no segment of vehicles has done more to force a redistribution of market share than that of Crossovers and SUVs. Transitioning countless drivers and families away from sedans and minivans, and converting many outdoor enthusiasts away from trucks, crossovers and SUVs represent a true paradigm shift in the history of automotive sales.
As of today, nearly every automaker has offered up their own unique take. Then again, true uniqueness is hard to come by in a segment that has grown so oversaturated. Considering the target audience, most every offering focus on one, or a combination of the following: seating, cargo space and/or infotainment technology. Factor in universal concerns about pricing and fuel economy and suddenly every crossover and SUV offering is trying to answer the same call.
But the creation of a well-realized line-up is so much more. It means building diverse offerings united under a singular vision. In this regard, Chevy SUVs succeed where so many automakers fail. But what makes these five vehicles such a compelling offering, especially when placed within a segment where it seems nearly impossible to do something truly unique?
The Same at Heart
Consistency is key. This seems to be cast aside by some automakers who seem so intent on creating diversity within their line-up that their offerings feel disjointed from one another. Exploration of Chevy's lineup shows a truly consistent design philosophy, where a singular vision is built upon and adjusted as needed to create five unique offerings.
As an example, let's look at the lineup's 'bookends': the Trax and Suburban. At first glance, the casual eye might not find great similarities between them, since both strike very different profiles. But when you view the line-up as a whole, including the Equinox, Traverse, and Tahoe to link those two bookends, you see a clear evolution.
This uniformity speaks to the strength of Chevy's core aesthetic, proving that you don't need to sacrificed brand identity to offer 'something for everyone'.
The Price is Right
Nearly every consumer considers pricing when purchasing a vehicle. Considering that every single one of them has a different budget to play with, an important base expectation of any lineup is that it includes something more everyone. And of course, Chevy shines in this regard.
With the fun and funky Chevy Trax priced to start around $21,000 MSRP and the iconic majesty of the Chevy Suburban priced to start around $49,415 MSRP, there is a Chevy SUV for nearly every budget. And with a diverse selection of trim levels and enhancement packages, each and every model can be configured to answer just about every demand.
Technology
Chevy SUV's are widely configurable thanks (in large part) to Chevy's success in making various technologies available, regardless of model and trim level. Some might argue that, of all segments, this is most important in crossovers and SUV's; and truth be told, we'd be hard-pressed to disagree.
Why? Consider the fact that such vehicles are most often occupied by families. Of course, a wealth of safety features take priority in terms of 'necessary' technology, but infotainment plays a major role as well. (After all, for many families, the most satisfying family drives are when certain members are too occupied to bother one another…)
While many automakers struggle to make features such as Bluetooth connectivity standard, it has been a standard feature in many Chevy models for years. Considering the overdue prevalence of 'hands-fee' laws throughout the country, this simply makes sense.
Another example comes in the form of mobile Wi-Fi. While other automakers entered the 2018 model year with no clear intentions of incorporating Wi-Fi, Chevy has done a masterful job of integrating 4G LTE Wi-Fi across their entire line-up over recent model years. In our opinion, this places may other automakers 'behind the times', especially in the crossover SUV segment. With so many families chock full of wireless devices, from phones to tablets, it makes perfect sense for multi-device Wi-Fi to be counted among today's vehicle's standard features.
But these are just two examples of how Chevy 'gets it right' in terms of available technologies. Throughout each model's trim levels, you'll find a wealth of offerings that seem a perfect fit for the models in which they are placed.
Range of Capabilities
Having addressed the strength of design choices, the range of pricing, and plentiful technologies, it seems appropriate to shift our focus to the more utilitarian nature of SUV offerings using (once again) our 'bookends'.
For those interested in a modern, sporty AWD crossover, the urban-inspired Trax might be a perfect fit. Powered by a modest 1.4-liter four-cylinder engine, the Trax channels a confident 138 horsepower and 148 lb-ft of torque. While it may not be ideal for heavy-duty utility, the Trax includes 48.4 cubic feet of cargo space, making its fashion-forward ideal for the conservative needs of younger drivers.
On the other hand, the mighty Suburban provides truck-like utility. Powered by a beefy 5.3-liter V8, the Suburban is capable of churning out 355 horsepower and 383 lb-ft of torque. Considering that a properly equipped Suburban can tow up to 8300 LBS, there is no shortage of capability to add further value to its luxury-inspired design (for up to nine passengers). And with over 120 cubic feet of cargo, it's ideal for more demanding hauling needs.
Whether either of these fits the demand of your lifestyle, or you're looking for something 'somewhere in the middle' Chevy has an offering for you.
Award-Winning Offerings
No discussion of Chevy vehicles is complete without mentioning dependability. For two years in a row, Chevy has earned J.D. Power and Associates' Dependability Awards across their entire lineup. If this is the foundation of Chevy's strength of offerings than the Tahoe stands as one of the four cornerstones.
More than just J.D. Powers' 'Most Dependable Large SUV', it stands as U.S News & World Report's 'Best Large SUV for Families' and edmunds.com 'Most Wanted Large SUV'. Add in KBB.com awards for 'Best Resale' and 'Best 5-Year Cost to Own' value, and the Tahoe provides a perfect example of Chevy's well-awarded lineup.
Doing it Better Than Anyone
No matter which of Chevy's crossover and SUV offerings best fits your lifestyle, you can proceed with utmost confidence. These are just five reasons why Chevy does it better than anyone, but find the right fit, and we are certain that you could build a far more thorough list fueled by your own satisfaction.