5 Great Used Car Values For Struggling Students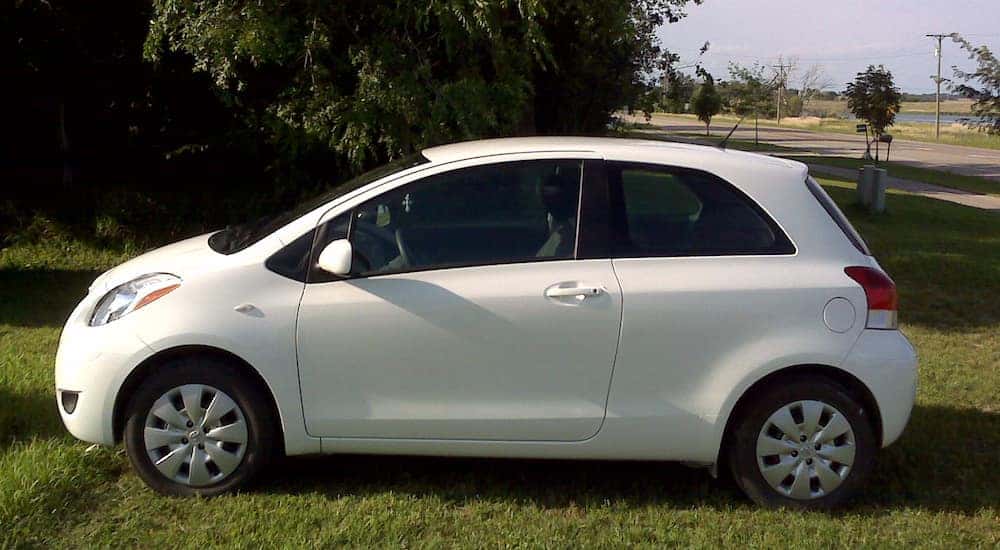 When you're a college student, there's nothing more liberating than having the ability to drive off campus whenever you want. Leaving the stress of the day in the rear-view is a great feeling, but a lot of people go their entire college experience without their own car. After all, buying a car is a big investment, and if you're getting ready to start paying off your student loans you probably want to save as much money as you can. Often times, though, it can be difficult to make that money without transportation, and in those cases it's essential to find a good deal on a reliable vehicle. If you're in a similar position, be sure to keep an eye out for these pre-owned models, which have some of the best used car values on the market.
Toyota Yaris
If you're trying to save a few bucks, there's a good chance you're hoping to find an affordable vehicle with decent gas mileage. A Used model Yaris could be exactly what you're looking for, though they do have their drawbacks. Due to its size, the Yaris is a highly maneuverable vehicle, but it leaves little room for cargo as a result. With an output of just 106 horsepower, some drivers also lament the vehicles limited strength. But where the Yaris is lacking in power, it makes up for it with its fuel economy, delivering an estimated 29 MPG in cities and 36 MPG on highways.
It's smaller size also contributes to a rather cramped space for rear passengers, so any prospective buyers who expect to be driving around friends or family should probably steer clear of this one. If you're not concerned with space, though, and you just need something to get you from point A to B, it may be worth considering a used Toyota Yaris. Your wallet will appreciate it too; if you're looking at models from before 2010, there's a good chance you'll end up paying well under $5,000 which is one of the best used car values around in terms of fuel efficiency.
Hyundai Elantra
The Elantra is a fairly standard commuter vehicle, but if you're shopping for something cheap that's probably all you need. The 2009 model is probably your best bet, costing between $3,000 and $4,000 on average. Its city and highway mileages are 25 and 33 MPG respectively, and its interior is relatively roomy compared to other vehicles in its class. It also has the potential to be a bit more modern than what you might expect from a decade-old used car, the 2009 Elantra is the first model to include USB and aux inputs as available options. The majority of the praise that it has received, however, has been directed toward its above average performance and comfortable interior. Its safety ratings fall slightly below par, however, so any accident-prone drivers may want to steer clear.
Likely in an effort to make up for the shortcomings of the 2009 model, the 2010 Elantra was built with a higher focus on safety, earning test ratings well above average. Its improvements are reflected in its average price, which sits between $5,000 and $6,000. If you think that the increase in price is worth the added safety benefits then the 2010 model is a great choice, but if you feel otherwise, the 2009 version still has excellent value for the price you'll pay.
Ford Fusion
The Ford Fusion is another somewhat typical sedan, but it could be considered a step up from the previous one on this list depending on your priorities. Its safety scores are better by a decent margin, though at the same time its fuel economy sits slightly below that of the Elantra. The Fusion handles nicely too, providing incredibly responsive steering and powerful brakes, as well as an all-wheel-drive option. The 2009 Fusion is usually priced somewhere between $3,700 and $5,000, which is more than the 2009 model Elantra, but less than the 2010.
The Fusion has a good deal of space for both passengers and cargo, and its seats are especially comfortable compared to other vehicles in its class. The SYNC infotainment system was an optional feature for the 2009 model, though it was an earlier version than the one that many cars are outfitted with today. While you might not find many impressive modern features on older models, the comfort, safety, and handling offered by Ford Fusions make them perfect affordable used cars with a great value.
Honda Fit
Some hatchbacks are pretty spacious, which can make them great for moving in and out of dorms. The Honda Fit is even better at this than other vehicles in its class, thanks to its unique "Magic Seats." Every seat in the car can be folded down to create a flat area for storage, and even the driver's seat can lay flat to create a comfortable place to relax for a while. The rear seats can also be folded upward in order to make room for taller objects if necessary.
The Fit's safety ratings and fuel economy are consistently above average. It also handles particularly well, which is probably one of the main reasons why the car has earned a reputation for being fun to drive. The 2007-2010 models are probably your best choices when it comes to value, and if you opt for an earlier model you could be paying as low $3,000 for the same primary features that you'd find in a 2010 model being sold at $6,000. Of course, each newer Fit comes equipped with a few extra amenities, so there is a reasonable trade-off, but if you're trying to be frugal with your decision you're better off with an earlier model.
Scion xB
Some people are turned off by its "boxy" design, but without it, the Scion xB wouldn't be able to provide such a spacious cabin. When you really think about it, it's only fitting for a vehicle that looks like a box to deliver such a substantial amount of cargo space. The xB also performed admirably in safety tests, and it generates more horsepower than most other subcompact cars as well. If you're looking for storage space or safety technology in your next car, the xB could be the right pick for you.
The standard stereo in the 2009 model comes with a USB port, and a few other convenient interior features like touch-screen navigation were also available at the time. The 2008 and 2009 models are the ideal options for taking advantage of the xB's value, and both are usually sold somewhere between $4,000 and $5,000.
In Closing
Buying a car can be expensive, and a lot of students don't even bother to think about it until they've already graduated. It never hurts to save a little money though, whether you're still a student or not, so it's always helpful to do a little research to get the best used car values you can find. Once you know what to look for, it should be much easier to find a solid used car for a great value that fits within a reasonably modest budget. And if you ever have any trouble, remember that we at DePaula Chevy are here to help in whatever way we can.