2019 Chevy Corvette Stingray – Summer's Perfect Car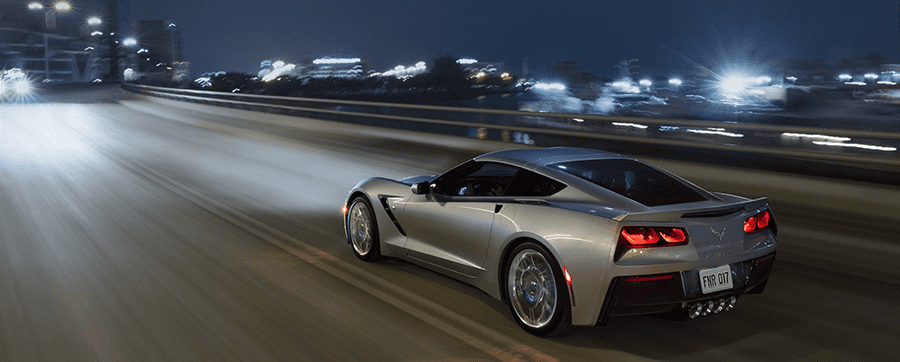 There aren't too many people walking on this Earth would haven't dreamed of driving around in a Chevy performance vehicle. If you are in the position where you can afford one of these rides, it might be tough choosing between the brand's various offerings.
Well, with summer quickly approaching, you really couldn't make a better decision than the impressive 2019 Chevy Corvette Stingray. While the nameplate is obviously a great choice in any scenario, it's an especially logical choice for those warmer months. After all, the vehicle includes a number of features and amenities that will accommodate the weather and your impending activities.
Below, we've explored several "summer amenities" that are included in the 2019 Chevy Corvette Stingray…
Summer Amenity #1: Power
It's the summer. While you'll have to spend a good portion of your traveling time sitting in traffic, we're sure you'd like to spend the remaining amount of time zooming to your destination. That will be more than possible if you're driving behind the wheel of the 2019 Chevy Corvette Stingray, as the sports car is equipped with one of the most impressive engine offerings in the entire industry.
The 6.2-liter V8 engine is a sight to be seen, as the unit is capable of cranking out an insane 460 horsepower. These numbers have a predictable impact on some of the performance specs, including the 3.7-second 0-to-60 time. Accompanied by either the seven-speed manual transmission (with the Active Rev Matching technology) or the eight-speed paddle-shift automatic transmission, owners can truly enjoy one of the best driving experiences in the entire class.
Summer Amenity #2: Interior
Everyone is seemingly out and about during the summer months, so that will provide you an excellent opportunity to show off your brand-new sports car. Predictably, your friends will surely be gawking at your new ride, as engineers included a number of luxurious features to the interior of the 2019 Chevy Corvette Stingray,
It starts with the GT bucket seats, which will truly help emphasize the athleticism of the vehicle. While these seats are undoubtedly stylish, they'll also provide you with optimal support, meaning you won't experience any back pain when you arrive to your destination. To take this inclusion over the top, owners can choose to adorn their interior in the available Napa leather upholstery option. With "precision hand-stitching" and "sueded microfiber accents," your new car will scream "luxury."
Looking to boost that style even more? Well, the lightweight aluminum and carbon-fiber trim is as sporty as it is elegant, drawing the attention of anyone who enters your cabin. The flat-bottom steering wheel is only the cherry on top, providing both practicality and style.
Summer Amenity #3: Technology
Of course, if you're going to be taking a lengthy road trip, you and your passengers won't want to succumb to boredom. Rather, you'll require some source of entertainment, and the 2019 Chevy Corvette Stingray certainly has your back. Thanks to the inclusion of the Chevrolet MyLink Radio, drivers can quickly and easily access their favorite applications. Whether you're looking for satellite radio or a navigation application, it will all be accessible with the click of a button. If you'd prefer to utilize your smartphone's applications and functions, you can easily connect the gadget thanks to the Apple CarPlay and Android Auto compatibility. These technologies allow occupants to seamlessly connect their phone to their vehicle, thus allowing them to access their preferred playlists, phone capabilities, and other popular apps.
Speaking of playlists, if you enjoy jamming out to your favorite tunes while you're zooming down the highway, you'll surely appreciate the available Premium Bose Sound System, which delivers an unmatched listening experience. If your occupants prefer a quieter ride, you may want to consider opting for the 4G LTE Wi-Fi, which provides a strong, reliable wireless internet connection for up to seven devices.
The features don't end there. Behind the MyLink system, drivers will find a hidden storage compartment, providing an excellent place to hide their most valuable cargo. Meanwhile, the audio input jack and the Bluetooth technology will make streaming easy.
Summer Amenity #4: Safety
Of course, regardless of the time of year, you'll want your new ride to be equipped with the top safety functions. Well, you won't have to worry if you're behind the wheel of the 2019 Chevy Corvette Stingray, as engineers did an admirable job of including a number of helpful safety functions to the ride. For instance, inclusions like the Brembo brakes guarantee optimal stoppage power, while the Magnetic Ride Control system allows you to constantly stay in control.
Of course, the brand also added several innovative safety functions to the sports car, as well. The Driver Mode Select allows drivers to adjust their vehicle's mechanics to the impending road conditions. Therefore, regardless of whether you're about to come across rain, mud, or snow, the Stingray is ready to keep you cruising. The eight-inch LCD Instrument Cluster allows drivers to prioritize the most important vehicle information, while the accompany Head-Up Display means you won't have to strain your neck in order to see diagnostics, speed, fuel efficiency, and more.
To top it all off, the vehicle is equipped with the available OnStar Automatic Crash Response system. If you do find yourself in an accident, you'll automatically be connected to an OnStar Advisor. This individual can quickly connect you with emergency personnel, assuring that help is right around the corner.
If you're looking to get your hands on your new summer ride as soon as possible, you should be heading out to DePaula Chevy today. The dealership doesn't only have some of the most competitive prices in the entire area. Rather, the Albany, New York dealership provides their customers with an unmatched buying experience, providing several amenities that only emphasize why they should be your only stop.
So what are you waiting for? If you're in the market for any of the impressive performance cars that Chevy offers, you should be heading out to the nearby dealership as soon as you can!