11 Benefits of Owning a Chevy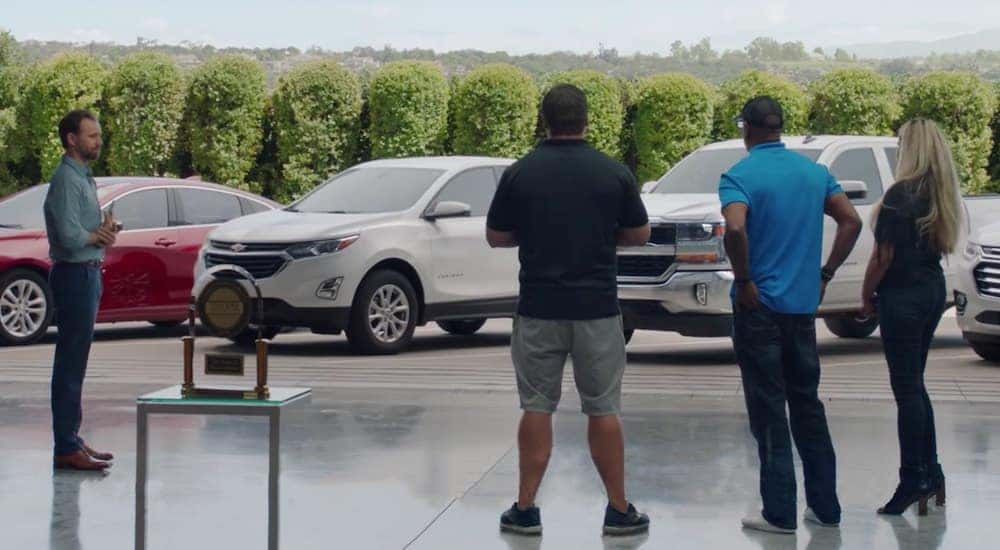 As you look to choose your next vehicle to drive, you just may want to step into a Chevy car or truck. These vehicles have plenty of benefits, features and value that would make any driver squeal with glee. Take a look at these top reasons why you should own a Chevrolet and get down to your dealer to get one soon.
#1. A Name That Says Quality
When you purchase a Chevrolet car or truck, you are stepping in a brand that is known for its quality. Chevy has been producing vehicles since 1911. They produce their own engines and have a line of vehicles that are designed to be durable and long lasting. Included in its product range are a line of compact, midsized, and luxury cars as well as SUVs and light-duty and heavy-duty pickup trucks. Chevrolet also produces electric vehicles with the Volt and Bolt EV in addition to a series of high-performance cars including the Corvette and Camaro.
#2. Solid Vehicle Reputation
The reputation that Chevrolet has is strong. It is well-known in the market and has launched an array of cars and trucks that have stood the test of time. With well-known vehicles like the Corvette under its umbrella, Chevrolet is a brand that consumers turn to for reliability, performance, and longevity. You'll definitely have that Chevy car or truck for many years to come. Chevrolet is a name in the industry that is notoriously loved by consumers. They know they can count on Chevy to deliver and provide a vehicle that fits their lifestyle with plenty of functionality, convenience, and technology upgrades.
#3. Safety First
Chevrolet has put a great deal of effort into making sure its cars and trucks are safe to drive. Through meticulous research and testing, Chevy has launched safety features such as low speed forward automatic braking, lane change alert systems, and rear cross traffic alerts. Many of the Chevy vehicles have been honored with the IIHS top safety award, especially when equipped with the driver confidence package. Chevrolet goes above and beyond when it comes to keeping drivers of its vehicles safe on the road, making these cars and trucks ideal for hauling precious cargo like your children. They also include airbags on all their models.
#4. Advanced Technology
The technology offerings from Chevrolet are top-notch with all the latest and greatest options included in their vehicle lineup. It provides standard-equipped entertainment systems that are compatible with both Apple and Android smartphones that allow you to play your music or navigate your way to your favorite retailer or restaurant with ease using its GPS system. Chevy has done its part to make sure that their cars and trucks have all the tech features that consumers want. You'll be impressed with the advancements these vehicles have as they rise above their competition with each development.
#5. Increased Fuel Efficiency
Chevy vehicles are designed to provide you the best fuel economy possible. With emissions-friendly engines, Chevrolet has optimized the powertrain to have lower fuel consumption. This can save you a bundle of money at the pump over the lifetime of the vehicle. With models like the Chevrolet Cruise that offer up to 52 mpg on the highway, you can't go wrong with this stellar fuel economy offering from Chevy. You'll be able to fill up less and take in more miles at a price that you can finally afford.
#6. Appealing Design
One of the best things about Chevy cars and trucks is their appealing design. Both inside and outside these vehicles is graceful and modern engineering. You'll stop traffic with the look of these vehicles as they incorporate a state-of-the-art appearance that you'll be proud to call your own. Each and every year, Chevy continues to enhance the look of its cars and trucks with momentous improvements that make it a challenge to choose just one to own. You'll definitely turn heads in a Chevrolet model and love driving you vehicle everywhere.
#7. Low Maintenance
Another great benefit of the Chevrolet brand is the low maintenance of its vehicles. These cars and trucks are developed to need minimal maintenance over the life of the vehicle. With regularly scheduled service, you can ensure your Chevy car or truck continues to operate without issue. You'll be able to drive these vehicles for a ton of miles with ease. Chevy vehicles are definitely designed to last without issue or major mechanical problems. You'll drive with confidence in your Chevrolet, knowing that you can rely on your vehicle to get you where you need to go.
#8. Roomy Interior
The interior of the vehicles from Chevy have plenty of room for you, your passengers, and all your cargo. Even models like compact Spark come with a cargo space of 27.2 cu.ft., making it possible to take everything you need everywhere you go. There is plenty of head and leg room in all of Chevy vehicles, keeping you comfortable as your drive or ride. Your passengers will appreciate the comfort as they ride with you, even on those long road trips.
#9. Affordable Prices
If you are looking for a vehicle that is affordable as well as packed with features, a Chevy is perfect for you. These vehicles are priced so that they are affordable for all consumers. They will fit into your budget, so you don't have to spend more to get all the features you want. You won't need to break the bank with a Chevrolet car or truck purchase as financing is available from your dealer, making these vehicles an ideal buy for any consumer.
#10. All The Accessories You Want
Chevrolet offers consumers the ability to completely customize their car or truck with a series of accessories offered by the brand. Virtually any accessories option you can think of is available from Chevy, including protective floor mats, bed liners, cargo nets, chrome details, enhanced Chevy logos, detailing kits, and more. Your new Chevrolet vehicle will be tricked out with this accessory line so much so that you'll have the sharpest car or truck on the block.
#11. American Made
Chevy cars and trucks are American made, allowing you to support a U.S.A. product. Buying American shows your loyalty to your country with a product that is homegrown. You are supporting American workers, jobs, and keeping your money in the United States. This is a top reason to buy a Chevrolet as it is one of the few vehicle manufacturers still producing cars and trucks in the states. Do your part and buy American with a Chevy-branded truck or car.
Ready to Own a Chevy? Choose DePaula Chevy!
As you look to make your next vehicle purchase, be sure to consider Chevy. It offers all the features, style, and comfort you want at a price you can afford. When you are looking to buy a Chevrolet, head on over to DePaula Chevy. We have the right Chevy car or truck for you and can help you drive home one today. DePaula Chevy has financing available and provides you with high-quality customer service, so you are never disappointed when you visit us. We are ready to help you buy a Chevrolet truck or car today!