2018 Chevy Equinox
What do you desire in a SUV? Is it a luxurious, athletic design? Perhaps it's an array of technological features. Maybe you have a young family and value unmatched safety features. Unfortunately, it's difficult to find all of these attributes included in one vehicle.
However, there is an option out there for those who are seeking all of those attributes in their new SUV. The 2018 Chevy Equinox offers everything you could possibly want in a new SUV, including opulence, technology, and safety. Best of all, the vehicle is incredibly affordable, especially when you compare it to rival SUVs.
You won't find a better buy than the 2018 Equinox. Continue reading to find out why!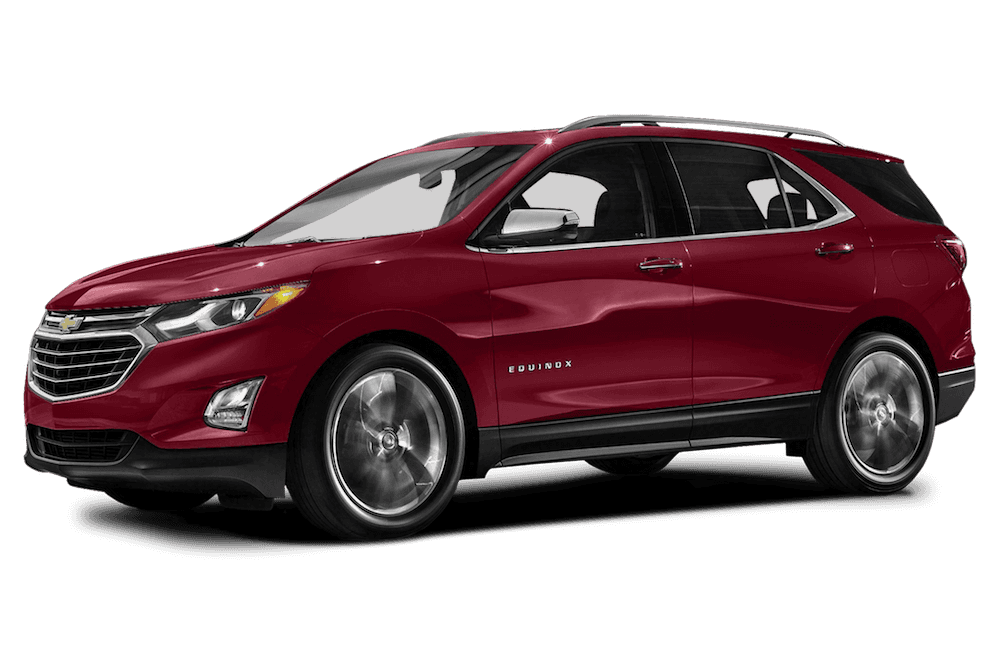 32 mpg highway
Fuel-efficiency
63.5 cubic-ft.
Cargo Space

Safety
SUVs are the perfect vehicle choice for families. If you're usually traveling with young occupants, then safety is presumably a very important attribute as you consider purchasing your next new vehicle. Thanks to Chevy's innovative and trustworthy safety technologies, drivers can rest easy knowing that their vehicle will help keep them out of harm's way.
A number of the technologies provide much-needed alerts when a crash or accident appears to be imminent, and these features can even manipulate the vehicle's operation if a collision is inevitable. Meanwhile, Chevy's engineers included the renowned Teen Driver technology in the 2018 Equinox, meaning the SUV is also a perfect choice for younger drivers.
You'd be hard pressed to find a safer SUV than the 2018 Equinox. Whether you're pursuing the vehicle for yourself or your teen, you can be assured that all of the occupants will be receiving the utmost protection.
Technologies
For every driver that prioritizes safety, the Equinox delivers in spades. The SUV contains a number of necessary safety technologies that will keep all of the vehicle's occupants safe and secure. The Low Speed Forward Automatic Braking will detect when the Equinox is in an imminent collision, applying the brakes to lessen (or even prevent) the crash. The Forward Collision serves a similar purpose, alerting the driver when they're rapidly approaching a stationary car. Meanwhile, the Lane Keep Assist technology (with Lane Departure Warning) will assure that you're staying within your intended lane and avoiding an impact with another vehicle.
The rear of the vehicle provides just as many technological safety offerings. The Rear Vision Camera allows drivers to keep tabs on everything that's happening behind their SUV, while the Rear Park Assist will make it a whole lot easier to sneak into a spot. There's even a Side Blind Zone Alert, which will provide an extra set of eyes to monitor those pesky, and often dangerous, blind spots.
Teen Driver
Best of all, Chevy added Teen Driver technology, assuring that your young driver will stay safe behind the wheel. Some of the functions include the inability to access the radio until the front occupants have buckled their seatbelts, and the vehicle will also automatically activate all of the advanced safety functions (including Side Blind Zone Alert, Forward Collision Alert, and Low Speed Forward Automatic Braking) when the teen is operating the SUV. Finally, an extensive in-vehicle report will allow parents to monitor how their teen is operating the new Equinox.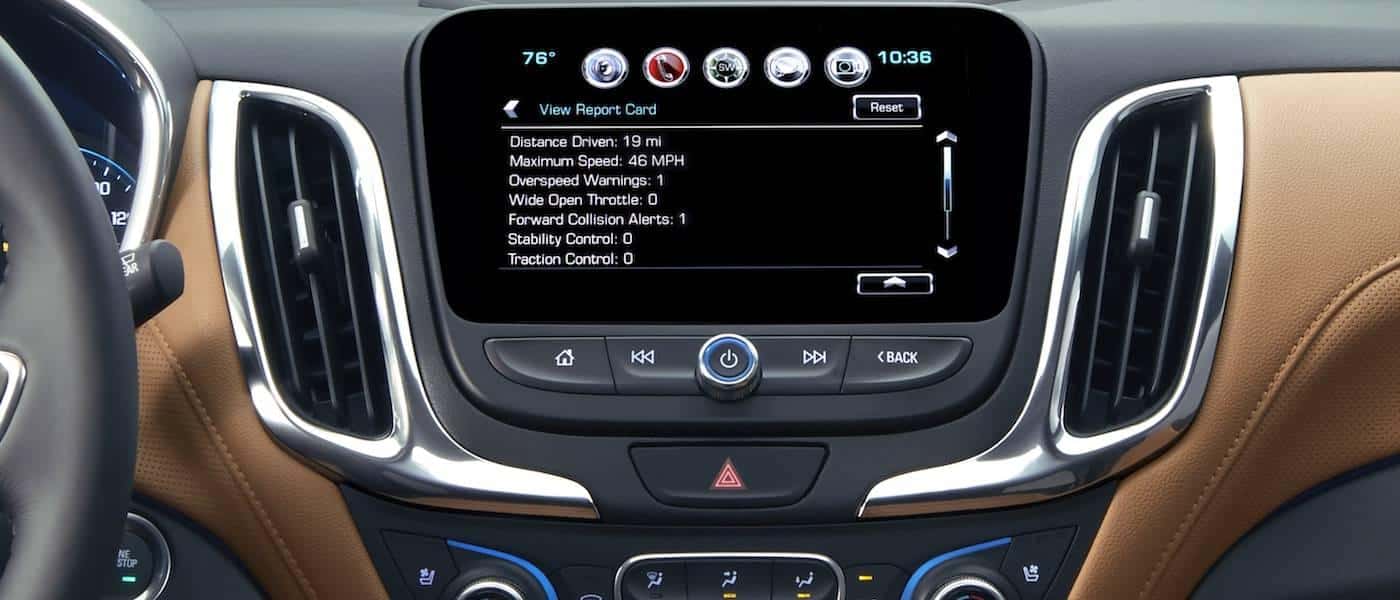 Technology
Everyone appreciates innovative technology, and the 2018 Chevy Equinox certainly delivers. Engineers included an array of features that will both entertain passengers and improve the overall ride quality.
The Chevy MyLink system provides access to a variety of different applications that will assist and entertain as you're traveling in your new SUV. Furthermore, the automatic lift gate will provide unmatched convenience, as drivers will have automatic access to the rear without having to fumble with their keys.
As we mentioned earlier, it's 2017, so you shouldn't expect anything less than the most modern technology. Per usual, Chevy delivers in this regard as evidenced by the 2018 Equinox.
Convenience
The Equinox provides a number of technological features that will make the entire driving experience a whole lot easier. The hands-free gesture liftgate undoubtedly leads the way, assisting you when your hands are full. With a simple motion of your foot, drivers will have automatic access to the trunk, providing easy access when loaded down with groceries, sports gear, or luggage.
Speaking of convenience, thanks to the 60/40 split-folding rear seats, drivers can unlock up to 63.5-cubic-feet of cargo space. By simply flipping these seats, owners will be able to fit whatever luggage or equipment they need without issue.
Entertainment
The Equinox also includes a number of entertainment technologies that will satisfy any driver or passenger, young or old. Thanks to the Apple CarPlay unit, occupants can easily connect their iPhone or Android smartphone to the unit, allowing them to access their favorite apps or preferred music.
Meanwhile, the Chevy MyLink system provides drivers with a plethora of offerings. Drivers can access radio, navigation, and even vehicle diagnostics. All of the information you could possibly need is right at your fingertips.


Design
It's 2017, and boxy, ugly SUVs are a thing of the past. Prospective buyers are now valuing a vehicle's design more than ever, and there's no reason why you should settle for a ride that you're not "attracted" to.
Fortunately for us, the 2018 Chevy Equinox provides unmatched style, especially when you consider that the vehicle is priced south of $25,000. The redesigned exterior provides a sporty opulence that is present in much pricier SUVs, while the array of color options allows each customer to customize the ride to their liking.
For those seeking an affordable, eye-catching SUV, you're unlikely to find a better buy than the 2018 Chevy Equinox.
Body
The 2018 Chevy Equinox isn't classified as a luxury vehicle, but you certainly wouldn't know that after seeing the SUV. Engineers have completely redesigned the sculpted vehicle, providing both a sporty and opulent look.
Meanwhile, the LED daytime running lamps don't just provide unquestioned convenience. They help supplement the eye-catching design, assuring that your fellow drivers will always be gawking at your new ride.
Colors
Fortunately, no 2018 Chevy Equinox needs to be exactly the same, thanks to the brand's paint offerings. As a result of the number of options, drivers can find a color scheme that fits their unique personality and style.
Customers have the opportunity to cover their new SUV with a number of shades, including Summit White, Silver Ice Metallic, Orange Burst Metallic, Nightfall Gray Metallic, Mosaic Black Metallic, Cajun Red Tintcoat, Pepperdust Metallic, Satin Steel Metallic, Storm Blue Metallic, Sandy Ridge Metallic, Iridescent Pearl Tricoat, and Ivy Metallic. No matter what you desire in a paintjob, you'll find it in Chevy's catalogue of colors.
We appreciate your interest in our inventory, and apologize we do not have model details displaying on the website at this time. Please fill the form out below and our team will quickly respond, or, please call us at 518-278-6036 for more information.

DePaula Chevrolet
The 2018 Chevy Equinox clearly offers it all. Whatever attribute you prioritize as you're seeking an SUV, there's no doubt that it will be included in Chevy's new ride. The opulent, sporty design provides an air of luxury that isn't usually seen in such an affordable vehicle. Meanwhile, the array of technological features will provide occupants with both entertainment and convenience. Finally, the numerous safety offerings will protect the driver (young or old) and passengers will remain safe and secure.
If you're in the Albany, New York area, there's no better place to purchase that new SUV than from DePaula Chevrolet. The helpful sales team will provide all of the information and details that you need, and you could surely finalize a deal as soon as possible. If you're looking to drive off the lot in your 2018 Chevy Equinox, then DePaula Chevrolet is the perfect dealership for you.
Equinox